Visit our Chapter's website at www.CentralCoastNRHS.com
Current Trips: Yosemite Mountain Sugar Pine Steam Spectacular Feather River Express IV
---
Yosemite Mountain Sugar Pine Steam Spectacular
Saturday and Sunday, May 31-June 1, 2014.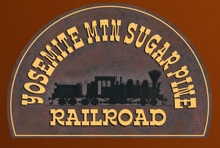 The Central Coast Railway Club (CCRC) will operate an excursion
on the Yosemite Mountain Sugar Pine RR at Fish Camp, CA
The trip includes bus transportation from Fresno to Fish Camp, a ride on the Yosemite Mountain Sugar Pine tourist railway behind a genuine steam locomotive, featuring photo runbys (not normally offered), a box lunch, and then return transportation to Fresno.

Passengers will also have the opportunity to ride Amtrak's San Joaquin to and from Fresno (not included), and attend a Fresno Grizzlies minor league baseball game (also not included).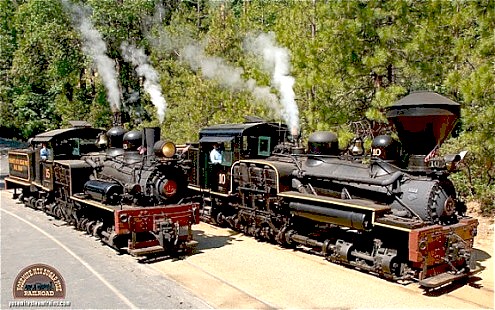 Schedule:
Saturday:
Passengers will travel to Fresno. They may use Amtrak's San Joaquin, or they may drive themselves.
Those wishing to attend the baseball game should plan to arrive in Fresno prior to 5:30pm, as the game starts at 7:05pm.
For those riding the train from the north, #716 arrives at 5:20pm, and from the south, #715 arrives at 3:20pm. Those not wishing to attend the baseball game, may arrive any time Saturday, or even early Sunday morning. Train passengers from the south may also use early Train 711 on Sunday morning. Transfer to hotel will not be provided.

Sunday:
Passengers will travel by bus to Fish Camp. Bus will depart the Holiday Inn at 7:30am, Amtrak Station at 7:35am, and La Quinta Inn at 7:40am.

Enroute to Fish Camp, four one-way passes to ride in the cab of the locomotive will be raffled off. At 9am, passengers will board a special steam-powered excursion train, which will travel the entire line and feature one or more photo runbys. After return to Fish Camp, approximately 11:00, a lunch, featuring ham, turkey or veggie sandwiches, will be served. Passengers will also have plenty of time to tour the gift shop and the surrounding area, and photograph the departure of the regular train.
At 1:45pm, the bus will return to Fresno in time for #715 northbound (3:20pm) or #716 southbound (5:20pm). Bus will also drop passengers at the Holiday Inn or La Quinta if desired.
Passengers riding the train to Fresno, will purchase their own Amtrak tickets at www.amtrak.com or 800-USA-RAIL. Passengers may also drive themselves to the Fresno Amtrak station (2650 Tulare St.) for pickup.

Accommodations:
Passengers are responsible for making their own hotel
reservations. The two designated hotels are:

Holiday Inn, 1055 Van Ness (closest to ballpark).

La Quinta Inn Fresno/Yosemite, 2926 Tulare St. (closest to station, farthest from ballpark).
Radisson Hotel & Conference Center, 2233 Ventura St.

Central Coast Railway Club has negotiated special rates at these hotels. Your Discount Code will be provided with your ticket order.

Three other hotel options in the area are:

Americas Best Value Inn, 2425 Merced St.

Super 8, 2127 Fresno St.

Fresno Grizzlies baseball game (Not included): Passengers also have the option of attending a Fresno Grizzlies baseball game on Saturday night. The Grizzlies are the AAA minor league affiliate of the San Francisco Giants. The Grizzlies will be playing the Sacramento River Cats (Oakland A's farm club). Chukchansi Park, which opened in 2002, is located at the corner of Tulare and H Streets in downtown Fresno, approximately 1-1/2 blocks from the Holiday Inn, 0.6 miles from the Amtrak Station, and 0.8 miles from La Quinta. Passengers may walk to the ballpark or provide their own transportation—cabs are available at the Amtrak station.

Passengers will purchase their own tickets to the baseball game. Tickets may be purchased at the box office on the day of the game, or in advance at http://www.milb.com/tickets/singlegame.jsp?sid=t259

Remember, the game is May 31. Ticket prices start at $8 for the bleachers, with most seats costing between $12 and $18.

Price:
$95/person. Includes bus transportation between Fresno and Fish Camp, special steam-powered excursion train on the Yosemite Mountain Sugar Pine Railroad, and lunch featuring ham, turkey or veggie sandwich.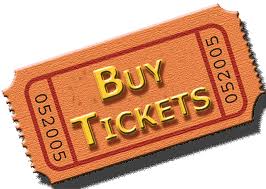 BUY TICKETS
Purchase tickets at out ONLINE STORE
Purchase by mail at PO Box 434, Santa Clara, CA 95052-0434
Purchase by telephone at 408-766-4451

CONTACT US
You can email us at info@GoldenStateRails.com or call us at the above phone number
---
Feather River Express IV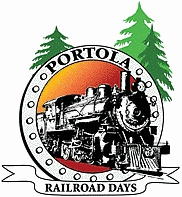 PORTOLA RAILROAD DAYS FESTIVAL
AUGUST 8-9-10, 2014
We invite you to ride with us to Portola to join in on the fun and excitement at the 32nd annual Portola Railroad Days Festival in the beautiful Feather River Canyon of the High Sierra.
Travel onboard our private charter train made up of private rail cars.
We will be departing from Emeryville with stops to pick-up passengers in Martinez, Davis, Sacramento, and Oroville. After departing Sacramento our train swings onto the former Western Pacific Route.
This three day tour is packed full of exciting fun for the entire family and the railfans wanting the unforgettable experience of traversing the Feather River Canyon. This route is a freight only line that rarely sees a passenger train. We are offering several classes of tickets for every budget including one-ways and one-day roundtrips.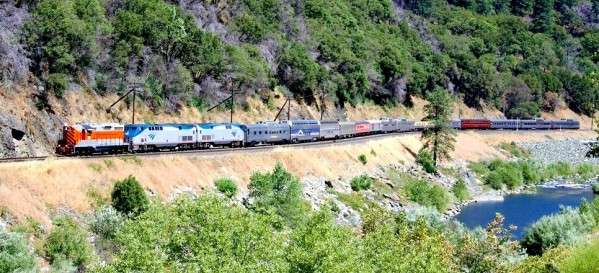 DAY 1 FRIDAY AUGUST 8: (Lunch included on board)
Depart our private charter train at Emeryville. We are scheduled to depart at 8:00AM. (Subject to change by the Railroad) You are welcome to board our excursion at Martinez, Davis or Sacramento.
DAY 2 SATURDAY AUGUST 9: The 32nd annual Portola Railroad Days Festival starts to gear up in the morning with special breakfast option offered by the Rotary Club before the Golden Spike Parade begins at 11:00AM.
DAY 3 SUNDAY AUGUST 10: (Lunch provided onboard) Our train is scheduled to depart Portola at 8:00AM for the return journey Westbound through the Feather River Canyon and back to the Bay Area. The scheduled arrival back in Emeryville is 5:30PM.
Additional details and ticket options and prices:
This excursion is operated by Trains and Travel International. Tickets purchased by way of this web site benefit the Central Coast Railway Club. Please click on the ticket below to proceed.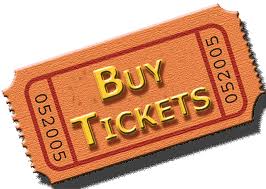 Thank you for supporting the Central Coast Railway Club.
---

Follow us on Facebook!
---
Check back often for up to the minute information about this trip, or to be notified of future trips, click here to complete the form.
---
This page last updated on 2/28/2014.