Visit our Chapter's website at www.CentralCoastNRHS.com
---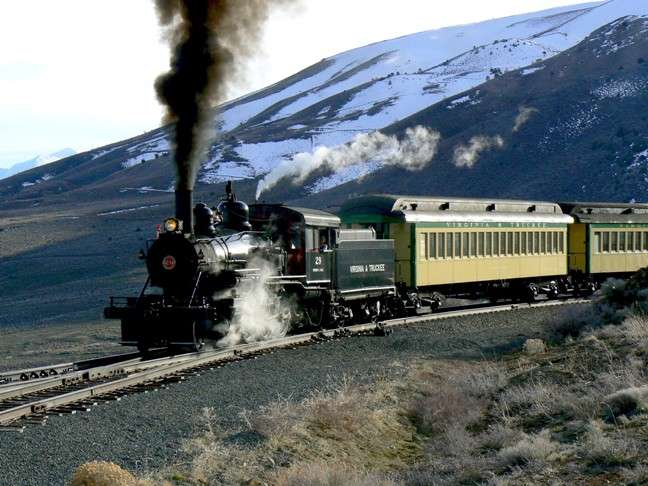 The Virginia & Truckee Explorer
October 12 through 14, 2013
We are pleased to announce this exciting 3-day excursion!
Jointly operated by the Central Coast Railway Club and Trains & Travel International

Additional informartion and trip details will be posted on this site as they become available!
WHAT'S INCLUDED?
Round-trip travel from the Bay Area to Reno, Nevada
Two nights lodging at the Circus-Circus Hotel in Reno.
All activities on Sunday October 13 listed below


TRIP DETAILS
Day 1 October 12, 2013:
Ride the Amtrak California Zypher to Reno. Board in Emeryville or any of the regularly scheduled stops along the way, or ride in luxury private railcars.

Day 2 October 13, 2013:
Leave Reno at 7:30 AM by bus; start V&T excursion at Carson City with photo run-bys on the lowerend of the linel. We have requested to run into the Carson River Canyon. Free rolls, donuts and coffee on train. Back at Carson City by 9:30
Follow 10 AM public train by bus to Virginia City with side stops for photos of train. Upon arrival in Virginia City we will tour the railroad workshops. After the shop tour you will be dropped off in downtown Virginia City to explore this old historic mining town and get some lunch.
During the afternoon we will visit the Nevada State Railroad Museum in Carson City, which has mostly Virginia & Truckee equipment including the classic McKeen railcar.
In the late afternoon we return to the V&T Carson Eastgate station and board our steam train for a run all the way up the steep climb to Virginia City including some photo run-bys. Departure from the Carson Eastgate Station will be at 4:00PM with an arrival in Virginia City around 5:45PM We then return to our hotel in Reno arriving around 7:00pm. You will have the rest of the evening to explore downtown Reno.

Day 3 October 14, 2013:
Return via Amtrak California Zypher or luxury private railcars to your original boarding location.

FARES

Standard Amtrak Coach:
Adults $369 Double Occupancy
Children (2-15) $319
Single Supplement $70
Luxury Private Railcar, NO V&T or Lodging:
Adults $548 Double Occupancy
Guaranteed Dome Seat $648
Children (4-12) $398
Single Supplement $70
Luxury Private Railcar, with V&T and Two Nights Lodging:
Adults $658 Double Occupancy
Guaranteed Dome Seat $758
Children (4-12) $498
Single Supplement $70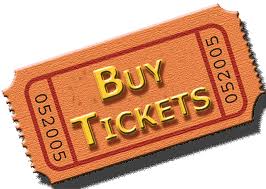 BUY TICKETS
Purchase tickets at out ONLINE STORE
Purchase by mail at PO Box 434, Santa Clara, CA 95052-0434

CONTACT US
You can email us at info@GoldenStateRails.com
---
TERMS AND CONDITIONS
Security Requirement

In order to comply with Amtrak security requirements each passenger must have an individual boarding pass which displays their name and that passenger must have valid government issued photo identification that matches the name on the boarding pass.The photo identification requirement applies to all adult passengers.

Financial Information

This excursion is sponsored by the Central Coast Railway Club, Inc. (CCRC), a 501[c][3] nonprofit historical organization. All trip planning, reservations and ticketing, and on-train passenger support operations are performed by volunteers.

Release of Liability

By purchasing this ticket you are agreeing to the following conditions:

Each passenger excuses and agrees to hold harmless the Central Coast Railway Club, its members and officers [trip sponsors], as well as the owners, officers and attendants of the private railroad cars in the consist, from any and all liability of whatsoever character, for any and all personal injuries and all damages resulting there from, and any loss of or damages to property that may be sustained by the passenger while on or about trains, tracks or other railroad premises pursuant to acceptance of risks, no matter how said injuries or damage may arise and whether said injuries result in death or otherwise, regardless of whether the trip sponsors, railroads or private car operators conduct, whether negligent or grossly negligent, caused or contributed to the said injuries, death or damage.

Passengers also accept and assume any and all responsibility for any loss, damage, injury or death regardless of cause while off the train at any time during the excursion and agree to hold harmless the trip sponsors if such circumstances occur.

In the event the excursion is canceled for any reason, the sponsors shall not be responsible to pay to passengers any sums in excess of the actual cost of the train ticket. We will only refund your ticket purchase price.

Full refunds are available for any reason up until the time the Boarding Passes are mailed out (approximately 2 weeks prior to the trip). After that time, refunds will be conditional on 1) the return of the printed Boarding Pass to the Central Coast Railway Club, and 2) the ability of the Central Coast Railway Club to re-sell the ticket(s). Ticket(s) may be transferred to another passenger(s), but the Central Coast Railway Club MUST be notified by telephone, email, or in writing before the trip so we can comply with the Security Requirement listed above. Refunds will be made by the same method as payment was. For example, credit card orders will be refunded by a credit being issued to the card, orders paid by check will be refunded by check.
---
Was a great success!
Several exciting possibilities are being explored for 2013! Check back often for updates!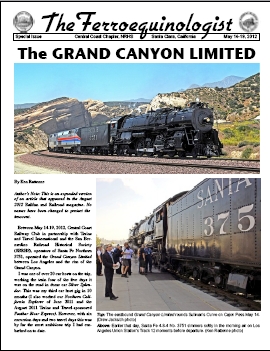 Click on the image above to see the complete story of the Grand Canyon Limited in a special edition of the Club's Newsletter, the Ferroequinologist.
This excellent newsletter is published each month, and is available to members on printed form in black and white, OR in electronic form in full color. In addition, members have to option to download each issue in high-resolution mode, with stunningly high quality images!
Visit our main web page at www.CentralCoastNRHS.com for details on how to join the Central Coast Railway Club.
---

Follow us on Facebook!
---
Check back often for up to the minute information about this trip, or to be notified of future trips, complete the form below.
---
To be notified of future trips, please complete the form below.
(if you've purchased tickets for this trip, or have previously requested to be notified, you are already on our Trip Notification List)